Be Psychedelic Hard French
This forthcoming Pride Sunday, Hard French Presents invites you to cross your eyes and dot your peas for an unbelievably wobbly , totally hamburger, entirely supernatural Hard French▼s Los Homos.
Our 8th Annual Pride Party astroplanes your hella gay dreams with 1 Bruja Alley Party, an "Ay De Mi!" DJ line up, and live performances from space by Shopping and the Undeniable Legendry of Evelyn "Champagne" King. White Rabbbit baby!
Pride Sunday June 24th, 2018
3pm-11pm (outdoor block party 3pm-8pm)
$25 Early Bird Pre Sale // $30-$35 general pre-sale// Some tickets available at the door
Tickets: https://www.eventbrite.com/e/hard-french-s-los-homos-viii-tickets-45876086610
Facebook: https://www.facebook.com/events/457371778017675/
Instagram: http://instagram.com/hardfrench
Featuring live performances by:
EVELYN "CHAMPAGNE" KING!
&
SHOPPING (UK)
With yr hosts:
Dulce de Leche & Lil Miss Hot Mess
Marathon Dance Floor by:
OLGA T (Mango)
VIN SOL (Club Lonely)
with a special San Francisco Family Reunion B2B opening set featuring:
SINDRI (Salad Saturdays, LA) & STANLEY FRANK SENSATION (Beatpig, Daytime Realness, SF)
YOUR STEVENSON ALLEY OUTDOOR BLOCK PARTY (3pm – 8pm)
con:
THE B- SIDE BRUJAS (OAK) & your HARD FRENCH DJ's spinning the baddest all vinyl girl group grooves, northern soul stunners, and funky foot stompers this side of the 60's
ABOUT THE ARTIST:
Evelyn Champagne King
They called her "Bubbles" because of her effervescent personality and sense of humor. Some thought she'd grow up to become a comedienne. But young Evelyn King was an all-around performer who sang, danced… whatever it took to hold her audience of friends and family members.
"You have to live life to know life," says vocalist-supreme Evelyn "Champagne" King. "That's the philosophy I apply to my day-to-day dealings and that's the philosophy I apply to making my music."
Evelyn "Champagne" King is one of the few disco stars who successfully weathered the decline of disco to have more hits through the 1980's. Not only did she manage to survive as a star into the 1980's, she is still recording and touring frequently today. Evelyn was born into a musical family. She was born in The Bronx and her father, EricK King, performed often as a stand-in singer for various groups, occasionally at the legendary Apollo Theatre. Later, her family moved to Philadelphia, at 14-years-old Evelyn began performing professionally with a local band from South Philly.
Shopping
Shopping formed in early 2013 by members Rachel Aggs (guitar), Billy Easter (bass) and Andrew Milk (drums).. They pull from a well of 70's post-punk with a voraciousness seldom seen these days, bringing to mind the jagged aggression of Gang of Four, the voracious yelp of The Slits and the dance inducing thrust of Delta 5 and ESG, though as Pitchfork reminds, "they never sound dated or like a carbon-copy, a testament to the group's songwriting abilities."
The bands' first few releases put out via their own MILK records in the UK consistently sold out within weeks, while Shopping juggled touring with repressing records to keep up with demand from record shops who couldn't seem to get enough of their groove riding, tough talking, life-loving post-punk funk. Second album Why Choose was released on FatCat Records world wide in October 2015. The release coincided with the bands first US tour, and also sold out within a month of it's release.
New album The Official Body was released 19th February via Fat Cat records, and has once again proved a sweeping success.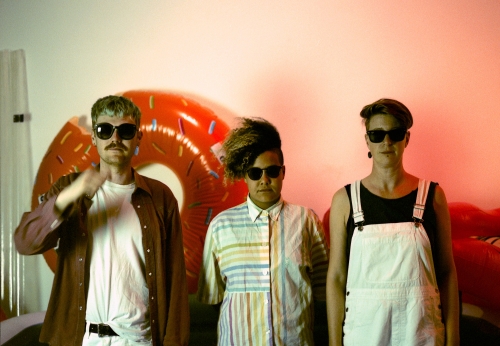 —–
HARD DANCING.
HARD CRUISING.
HARD FRENCH▼s LOS HOMOS
8 years of chingaderas baby. Te conocemos 😉